Precious metals, stainless steel, ceramic, mother-of-pearl, precious stones... Because the choice of materials is an essential link in the long chain of processes in manufacturing an exceptional product, Rolex rigorously selects the materials for its watches. Each bridge of the movement, each wheel, each pinion, each element of the case, bracelet or dial is made of a material that has been meticulously selected and constantly re-evaluated to guarantee its performance and its impeccable aesthetics.
Performance fit for extremes
OYSTERSTEEL
A Rolex watch must work perfectly and maintain its beauty even in the harshest environments. That is why Rolex uses Oystersteel, a steel alloy specific to the brand. Oystersteel belongs to the 904L steel family, which is particularly resistant to corrosion and acquires an exceptional sheen when polished.
904L steels are commonly used in high-technology and in the aerospace and chemical industries. Their excellent anti-corrosion properties are comparable to those of precious metals.
The source
of the shine

Gold

Gold Rolex watches possess a truly captivating radiance, born of years of experience in perfecting the use of this most precious of metals. Only by controlling the whole process can Rolex guarantee a peerless, enchanting lustre on its watchcases and bracelets alike.

Rolex exclusively uses 18 ct gold, a princely alloy composed of 750‰ (thousandths) of pure gold, plus exactly the right mixture of elements including silver and copper necessary to produce the different types of 18 ct gold: yellow, white and Everose, Rolex's exclusive pink gold alloy. Jealously-guarded formulas ensure exceptional durability, polishability – and an extraordinary sheen that lasts for generations.
And then there was light
PLATINUM
Rare and precious, considered the noblest of metals, platinum is striking for its silvery whiteness and its vibrant luminosity. Over time it has become the ultimate metal of prestige, with the ability to showcase precious stones like no other material.
Rolex uses 950 platinum, an alloy consisting of 950‰ (thousandths) of platinum generally combined with ruthenium. This allows the metal to be robust enough to be used in watch cases, while maintaining its legendary shine and brilliance.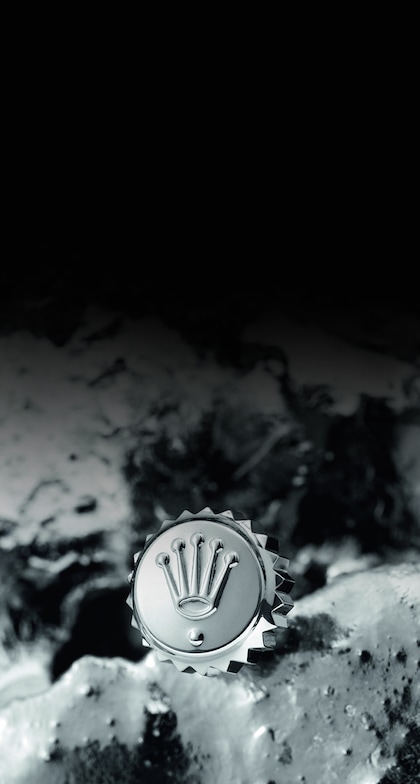 A meeting
of metals

Rolesor

Rolesor is the auspicious meeting of two metals on a single Rolex watch: gold and steel, with their contrasting colours and radiance, in subtly balanced harmony.
Gem-set purity
Precious stones
Through their unique brilliance and the extreme care taken in their setting, the high-quality precious stones selected by Rolex endow gem-set watches with unparalleled prestige.
Unfading
beauty

Cerachrom

Rolex developed and patented the Cerachrom bezel for specific Professional models to ensure lasting beauty and functionality even after exposure to the most extreme conditions. Fashioned from extremely hard ceramic material, it is virtually impervious to scratches, and its colour is unaffected by ultraviolet rays of the sun.

For optimum legibility, the numerals and graduations are engraved in the ceramic and then coated with a very thin layer of gold or platinum using a PVD process. A final diamond-polishing removes the gold or platinum from the rest of the bezel's surface and gives an exceptional, long‑lasting lustre.
From across
the solar
system

Meteorite

Meteorites crossed hundreds of millions of miles to reach Earth – by chance. Rolex integrates metallic material taken from meteorites into some of its watches – by design.

The origins of the "iron meteorites" incorporated into the dial of a select number of Rolex watches could not be further removed from the other materials used in constructing watches - the metal is taken from an asteroid or possibly a planet that has exploded, propelling material across the Solar System until chance brings it into our own planet's orbit and gravity pulls it to Earth.

These formations provide inspiration for the designers at Rolex who create from these configurations a unique treasure for some of the most prestigious Rolex models. Appropriately, given iron alloys' origins, the metal is used to represent the full Moon in the dial of the new Cellini Moonphase.